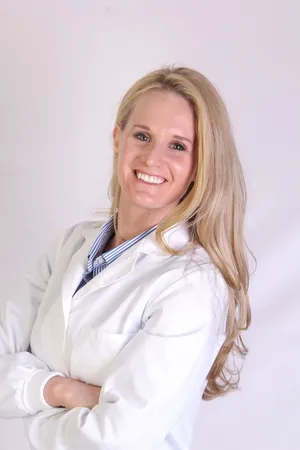 Laura Sanati-Zaker, DC
Dr. Laura Sanati-Zaker grew up with chiropractic as part of her life, being adjusted since the age of 5. She played fastpitch softball at St. Olaf College and was regularly adjusted as an athlete. She graduated from St. Olaf College in 2006 with a degree in Biology. Dr. Zaker then continued her post graduate education at Northwestern Health Sciences University, earning her doctorate in chiropractic as well as board certification in acupuncture in 2009. During grad school, she was able to volunteer chiropractic services in Costa Rica and Mexico, where she was also able to further her Spanish speaking abilities. Following graduate school, she was an associate doctor for approximately 9 years at a well-established clinic in Wayzata, MN before deciding to be close to home in Maple Grove. She has a strong passion for helping others achieve optimal health. She especially enjoys treating pregnant women as well as babies and is well-versed in the Webster Technique . Dr. Zaker currently resides in Maple Grove with her husband, teenage step-daughter and two young sons. She is thrilled to serve the Maple Grove Community and surrounding area!
Thong Chang, DC

Dr. Thong Chang first experienced chiropractic care when he was in high school after he was involved in a motor vehicle accident. Following his accident, he was experiencing severe lower back and neck pain and was referred to chiropractic care. He recovered from the auto accident and was amazed at how well his body responded to treatment. This motivated him to want to become a chiropractor. He graduated from the University of Minnesota-Twin Cities with a Bachelor of Science in Kinesiology. He then continued his post graduate education at Northwestern Health Sciences University for his Doctorate of Chiropractic. He is licensed in acupuncture! He is passionate about educating others about the benefit of his profession. He is fluent in Hmong and especially enjoys reaching to the individuals in the Hmong community who may not know of such benefits. He is well versed with children and babies since he is an uncle to 8 nieces and nephews. In his free time, he enjoys playing volleyball and has been involved in various tournaments. Dr. Chang currently resides in St. Paul and recently got married in 2022!
Alexander Babcock, DC
Dr. Alex was introduced to chiropractic care when he was a high school athlete and dealt with numerous injuries growing up. He played baseball in college and pursued a degree in exercise science at Bethany Lutheran College. Dr. Alex took his sports background with him to grad school where he obtained his Doctorate of Chiropractic at Northwestern Health Sciences University. He is certified in Functional and Kinetic Treatment with Rehab. He continues to coach baseball in his free time with the Minnesota Icemen and Elk River High School. Him and his wife Anna just had their first child, Nora, in 2023!
Sarah - Certified Massage Therapist & Exercise Rehabilitation Specialist
Sarah has dedicated over 18 years of experience to the health and wellness industry. During that time, she has worked very closely with chiropractors to help patients achieve their own natural healing process by restoring their bodies to optimum function and maximum performance through massage therapy and corrective exercise rehabilitation. Sarah specializes in an integrative approach to massage therapy with techniques ranging from trigger point therapy and myofascial release to deep tissue and Swedish therapeutic massage.
Calee - Certified Massage Therapist
Calee received her certification in massage in 2006 and has been a dedicated massage therapist since. Calee has always strived to relieve any and all pain a patient may suffer from, while working closely with chiropractors. She would describe her massage style as relaxing, therapeutic, and integrative. In her free time, Calee enjoys spending time with her family, being outdoors, and watching her kids play sports.
Philip I - Certified Massage Therapist
Philip Ristow - Certified Massage Therapist
Philip is a 2014 graduate of Centerpoint massage and shiatsu school, and has dedicated his full time career to improving the quality of life for his patients using a holistic approach to health and wellness incorporating the best of Western Massage with Traditional Chinese medicine and Shiatsu. Philip also practices yoga, meditation and martial arts; all of which informs his massage practice.